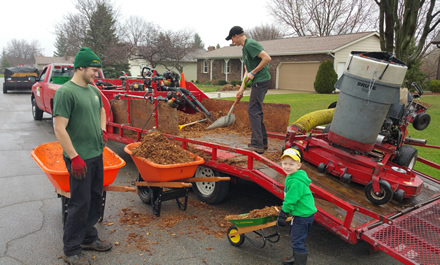 Your home or commercial property is likely your largest investment, and pride of ownership shows in the details. By maintaining your lawn and landscaping to professional standards, you retain your curb appeal and build the long-term health of your turf, which is no happy accident.

Expertise and prevention will save your turf from the blights of wily nature and promote attractive, controlled growth. Intelligent maintenance and professional landscaping boost a property's value by as much as 15%-20%, according to real estate experts, netting you as much as a 100-200% return on your investment!
Jack's Lawn Service & Snowplowing provides year round commercial and residential landscape service packages including:
You can count on our pre-screened, long-term and well-trained staff to care for your property as if it were their own. Our pride of workmanship goes into every lawn at Jack's!
Jack's Lawn Service & Snowplowing Inc. is fully state licensed and maintains active membership in the Association of Grand Rapids Landscape Professionals and the Michigan Nursery and Landscape Association.
Contact Us.
Call us at 616-698-8616 or fill out a quick form online to request a free quote on your snow removal or landscaping project. We look forward to hearing from you!
Get Fast Answers!